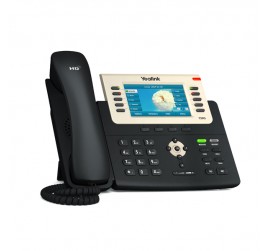 IP PHONE SIP-T29G
Kode Produk:
00503
Ketersediaan:
Tersedia
Harga: Rp. 3.047.000
Tanpa Pajak: Rp. 3.047.000

SIP-T29G
SIP-T29G IP Phone is the most advanced model in the Yealink T2x IP terminal series. It has a high-resolution TFT color display,delivers a rich visual experience.Yealink Optima HD technology enables rich, clear, life-like voice communications.Supports Gigabit Ethernet, a variety of device connections, including EHS headset and USB. With programmable keys, the IP Phone supports vast productivity enhancing features.
> Yealink Optima HD voice
> Dual-port Gigabit Ethernet
> 4.3" 480 x 272-pixel color display with backlight
> Wi-Fi via WF40
> Bluetooth via BT40
> USB recording
> Up to 16 SIP accounts
> Paper label free design
> PoE support
> Headset, EHS support
> Supports expansion modules
> Stand with 2 adjustable angles
> Wall mountable
> Simple, flexible and secure provisioning options
Audio Features
> HD voice: HD handset, HD speaker
> Codecs: G.722, G.711(A/μ), G.723, G.729AB,
G.726, iLBC
> DTMF: In-band, Out-of-band(RFC 2833) and SIP
INFO
> Full-duplex hands-free speakerphone with AEC

> VAD, CNG, AEC, PLC, AJB, AGC
Tulis review
Nama Anda:
Review Anda:
Note: HTML tidak diterjemahkan!
Rating:
Jelek
Bagus
Masukkan kode verifikasi berikut: